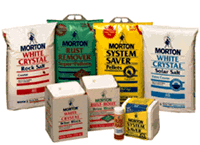 W

incross carries a full line of MortonÒ water softening salts. Delivery is available by the pallet and by other quantities. In addition, time initiated delivery options are available so you never need to worry about running short on salt. We only carry salt that guaranties maximum purity, minimizing the amount of insolubles resulting in a salt that is 99.5% pure! The bottom line is a salt that is clean, contains a minimum amount of fine salt particles, is consistent in crystal size, and is of unsurpassed quality.

Wincross also offers an alternative to traditional water softening salt. SoftouchÒ is a potassium based, health-smart, earthwise alternative to using salt in your water softener. Fruits and vegetables are a source of potassium and so is water treated with SoftouchÒ . In addition, potassium is an excellent plant nutriant which means water treated with SoftouchÒ is safe for your lawn and plants! Not only that, when you use SoftouchÒ as your softener, you help reduce the amount of chlorides discharged into the environment by 10% - 20%!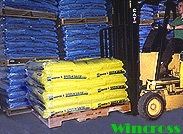 For more information on any of these products, please contact Wincross!