Solo

Ô

Portable

. The SOLO reverse osmosis (RO) machine is lightweight and its compact design allows users to customize and fit their portability needs. When mounted on a medical supply cart the SOLO RO becomes a completely mobile work station offering the freedom to quickly and easily provide dialysis wherever it is needed.

Versatile

. The SOLO RO is designed for effortless hook-up. In fact, it's the most versatile RO on the market due to our ability to configure it either horizontally or vertically. Once mounted, the SOLO RO and your dialysis machine become a complete, all-in-one mobile dialysis unit.

Choose either the SOLO 320 or the SOLO 640. Both models deliver the high-quality purified water you need and easily mount in hospitals, clinics, or labs. The SOLO 640 provides the capacity required for dialysis applications.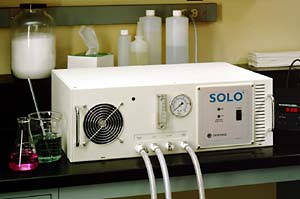 Adaptable

. The SOLO RO's manageable size conserves space to efficiently meet any number of your water purification needs. And since it's lightweight, it travels easily. The SOLO 320 is perfect for laboratories and other commercial applications. For higher volumes, the SOLO 640 offers the same small footprint and light weight.